About Us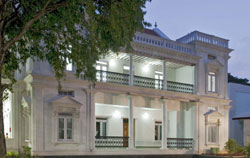 The National Gallery of Modern Art, Bengaluru was set up in the premises of the Manikyavelu Mansion at 49 Palace Road, Bangalore and opened to the public on 18th February, 2009. Spread over an area of 3.5 acres, the gracious heritage building was transformed from a residence into an Art Gallery, with a display space of 1551 square meters to which a new gallery block with a display space of 1260 sq. m. was added. The architecture of the additional block was designed in such a fashion that it merges with the style and ambience of the heritage Manikyavelu Mansion while at the same time fulfilling the requirements of a modern museum.
The Bengaluru NGMA is run and administered as a subordinate office of the Ministry of Culture, Government of India. It is one of the three National Galleries of Modern Art - the other two being in Delhi and Mumbai. The Gallery stands as a repository of the cultural ethos of the country and showcases Indian art starting from the early 18th century till the present times.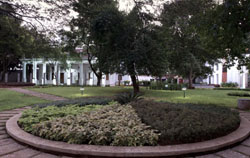 The collection of NGMA mainly comprises of paintings, sculptures, graphic prints and examples of early photography in India which showcased the historical development of modern art in India. The display includes Indian miniatures, colonial artists, Bengal School and post-independence artists which led to the birth of modern and post-modern art of today. In addition to permanent display of the paintings and sculptures, this NGMA also showcases national and international exhibitions regularly.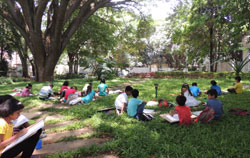 Situated in a serene ambience dotted with magnificent trees, fountains and a mirror pool the gallery is an inviting place to quietly devour the tranquility of art. Equipped with an auditorium, a public art reference library, a cafeteria, and a museum shop cum facilitation block, the NGMA Bengaluru looks ahead to becoming a hub of art activities and a major cultural centre at Bengaluru. The gallery organizes and hosts talks on art and culture by eminent speakers, seminars, film screenings as well as workshops and guided walks throughout the year.
In addition to the permanent display of paintings and sculptures, and hosting exhibitions, a strong emphasis is also laid on educational programmes for children, adults and families, with innovative outreach and educational activities which are organized regularly at NGMA Bengaluru.
To spell out a few:
Organized programmes for school children with grade specific activities.
Celebration of commemorative events
Graffiti contests, painting contests, etc.
Talks on art and related subjects by eminent speakers.
Workshops to create awareness and art appreciation.
Films screenings on art, education and culture every weekend.
Regular gallery walks twice every week: Wednesdays and Saturdays at 4.00 pm
Special guided tours.
Tailor made guided walks for specific groups.
Route guide to NGMA Bengaluru complex from MG Road, Metro Station:
Head towards Anil Kumble Circle and take right on Queen's Road to find Chinnaswamy Stadium on your right.
Continue straight ahead and follow the bend (Metro Construction) to find the General Post Office to your left and move straight ahead crossing the signal.
Continue ahead on Rajbhavan Road and keep straight to reach traffic signal with Chalukya Hotel in front of you.
Take right at the signal and proceed further (Sophia's High School to your left) and continue to cross the round about at Balabruhi Guest House.
Head straight ahead on Palace Road to find NGMA Bengaluru on the left side between the Anjaneya Temple and Petrol Bunk.