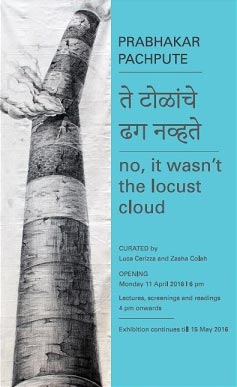 "Prabhakar Pachpute. no, it wasn't the locust cloud"
Curated by Luca Cerizza and Zasha Colah
Opens on 11 April
Talks on 1 & 11 April, 2016.
Talks are free and open to all.
Date: 1 April 2016
Hours: 4 pm - 9 pm. Dinner served.
To be held in the NGMA auditorium.

Speakers: Dr. Manisha Patil (Professor of Art History and former dean, Sir JJ School of Art, curator, member of the NGMA Advisory Committee), Nalini Malani (artist, Mumbai) and Johan Pijnappel (curator and art historian specialised in video art, Mumbai), Dr. Manjiri Thakoor (art historian specialised in rock-cut temples, Deputy Curator NGMA, Mumbai) Luca Cerizza (art historian and curator, Berlin/Mumbai) Zasha Colah (curator, Mumbai/Berlin) and Prabhakar Pachpute (artist, Mumbai).
Date: 11 April 2016
Hours: 4pm - 7pm, followed by the opening and reception.
To be held in the NGMA auditorium and in the Dome gallery of the NGMA.
Speakers: Amita Malkani, (Inlaks Shivdasani Foundation, Mumbai), the u-ra-mi-li project (filmmakers, Chennai), Abhay Sardesai (art critic and editor Art India Magazine, Mumbai) with Prabhakar Pachpute (artist, Mumbai), Aruna Chandrasekhar (researcher, Bangalore), Navjot Altaf (artist, Mumbai), Sapta Ranga (a seven member poet-miner-farmer collective, Chandrapur).
The talks and educational programs are supported by the Inlaks Shivdasani Foundation. Additional support in the talks and educational programs is provided by the Goethe-Institut / Max Mueller Bhavan Mumbai. Special thanks to Experimenter, Kolkata.