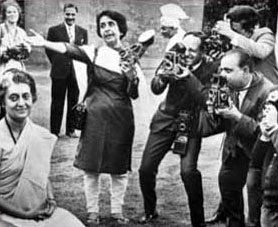 Homai Vyarawalla and other press photographers during a photo
shoot Mrs. Indira Gandhi late 1960s

The National Gallery of Modern Art, New Delhi in collaboration with the Alkazi Foundation for the Arts present

"Homai Vyarawalla: A Retrospective'

, an exhibition which portrays an illustrated journey through the rich photographic world of India's first woman press photographer.

Homai Vyarawalla photographed the last days of the British Empire and the birth of a new nation. Born in 1913 to a Parsi family, Homai moved to Delhi in 1942, where she photographed events leading to Independence as an employee of the British Information Services. She captured the social and political life of a nation in transition, tracing both its triumphs and tribulations. Homai photographed key events that would have a decisive impact on Indian history that included a meeting where leaders voted for the 3rd June plan to partition India. She also photographed the first flag hoisting ceremony at Red Fort on August 16th 1947, the departure of Lord Mountbatten from India and the funerals of Mahatma Gandhi, Nehru, and Lal Bahadur Shastri. Some of the most iconic portraits of India's first Prime Minister, Jawaharlal Nehru form part of this collection. This show features her photographs of everyday life in 1940s Bombay and images of leisure in Delhi in the 1950s and 1960s.

The exhibition acknowledges Homai Vyarawalla's role as a pioneer among women and her contribution to early photojournalism in India. The great value of her work lies in photographs that archive the nation in its infancy documenting both the euphoria of independence as well as disappointment with its undelivered promises. Her images with their strong composition and rich tones are a testimony to her skills as a master photographer.

In a digital era, this exhibition will showcase approximately 150-200 images including original silver gelatine prints, many printed by the photographer herself. On display would be her old cameras, photographic equipment and other memorabilia. An eye witness to almost an entire century, and recently honored by the nation with the 'life-time achievement award', Homai Vyarawalla, now ninety-seven years old, will be present for the opening of the show.

Homai Vyarawalla has recently given her entire collection of prints, negatives, cameras and other memorabilia to the Alkazi Foundation for the Arts, New Delhi (ACP) for safekeeping and documentation. This exhibition has been curated by Vyarawalla's biographer, Sabeena Gadihoke who is Associate Professor at the AJK Mass Communication Research Centre at Jamia Millia Islamia.