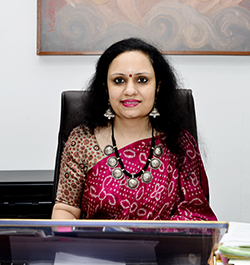 I am pleased to take charge as the Director of the National Gallery of Modern Art, New Delhi (NGMA Delhi) and I warmly welcome you to explore the modernist masterpieces and the nine Indian artists whose works of art are considered 'national treasures'. Apart from this, I am extremely delighted to initiate our new programme that has special focus on in-house curated exhibitions from our rich collection of modern and contemporary art that showcases rarely seen works of art since its acquisition. The re-orientation of the permanent gallery project will also bring in the forefront the unseen treasures from our collection. I strongly feel that it is our responsibility that these historically significant works of art are presented in public domain for the art community and art lovers.
In 2018, with our new educational and outreach initiatives, NGMA Delhi continues to build an audience for the appreciation of fine art. I am also happy to share that The Artwork of the Month programme initiated in October 2018 is one of our many outreach activities to disseminate information about our rich collection and our work in the field of visual arts. With this we explore to make meaningful connections with our audiences and make efforts to lessen the gap between art and audiences.
International collaborations are extremely important to us in presenting our rich artistic and cultural heritage overseas. I am happy to share that NGMA Delhi has become a sought-after and premier venue for special exhibitions both national and international. I am excited to spearhead the administration of this premium institution that continues to fulfill its role as a centre for the visual arts.
Ritu Sharma
Director
National Gallery of Modern Art, Delhi